" LISTEN TO WHAT YOU WANT. DO WHAT YOU WANT. BE HAPPY. BE POSITIVE. YOU ARE GOING TO DIE ONE DAY. MAKE THE MOST OF IT. "
Those were the direct words of wisdom from Ben Nicky last weekend in Brooklyn, New York.
It has been a year or two since we last caught up, so I was more than excited to see him at Avant Gardner. Since he started switching up his sound and sets, I haven't been able to catch him live. So needless to say, I was extremely excited to have him close out the Find Your Harmony 200 show after Andrew Rayel's set.
For someone who's racked up over 500,000 air miles touring in the last year, I would say he didn't look quite as wrecked as I expected him to! The "bad boy of trance," as named by Armin, had quite a grounded, peaceful and happy energy to him. He told me he had been sober for 2-3 weeks. Crazy, right? He talked about "finally finding Ben" and doing all the things that made him happy; from spending time with family to playing the music he loves deep down.
We had a ton of laughs as he filled me in on the last couple of years. From his countless sold out solo shows all over the world to being the top selling DJ in all of Northern Ireland— it seemed to me that Ben finally found his flow and is living in it. I asked him what changed in the last few years, because his career sure has not slowed down a single bit since we last met. If anything, he is in higher demand, playing more shows, with even crazier fans.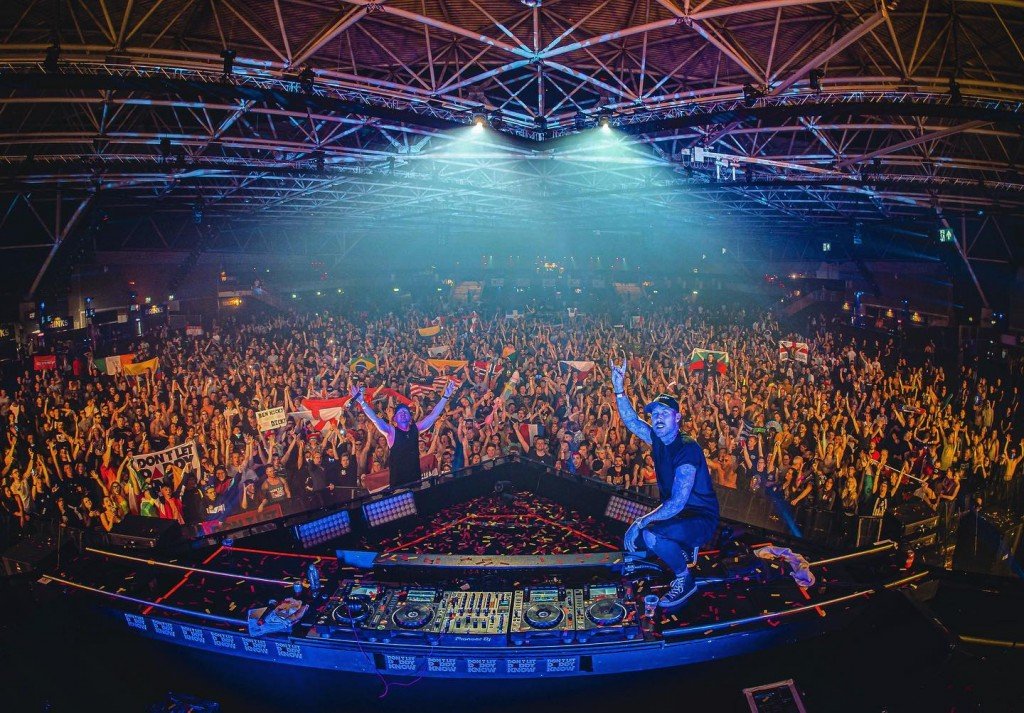 He opened up about fear and fulfillment.
He first shared about having once been scared to play what he wanted, before he became as seasoned as he is today.
" I just kind of hit my happiness now. In terms of now I know what I want. Focused on doing things with my family, taking my friends to shows where as when you're a young hungry kid that just wants to DJ, you kind of go into the 'I wanna be a big DJ, I want this, I want that.' But now that I've got that, I'm now looking at other things that make me happy. I kind of… found Ben. "
Whether it's the lifestyle he leads or the music he wants to play, I'm extremely happy for Ben. He continues to be an innovator that follows no rules, breaking down barriers that confines spaces and genres; although I'm sure we aren't strangers to that. Even back when Ben was playing mainly trance, he managed to have his own edgy spin to every set. Now that he's been taking over massive stages in and outside of trance, playing everything from happy hardcore, hardstyle, to tech house, his star continues to rise faster than ever.
He shared with me his thoughts on potentially stopping or slowing down in the next few years. I was shocked to hear that, as I cannot imagine "The Ben Nicky" living any other way than this rockstar kind of DJ life. But he shared the toll touring takes on him once again, despite this being all he knows. If a slowdown is on the horizon, then at least we know he would make a badass businessman of some sort considering how well he has developed his brand in the last decade.
I asked him what made him decide to go back to his roots in playing the music he liked. He shared with me that his first gig ever was playing hardstyle with Scot Project and Markie G. Dating back, some of his biggest influences in the scene have been of Darren Styles, Hixxy, and Dougal.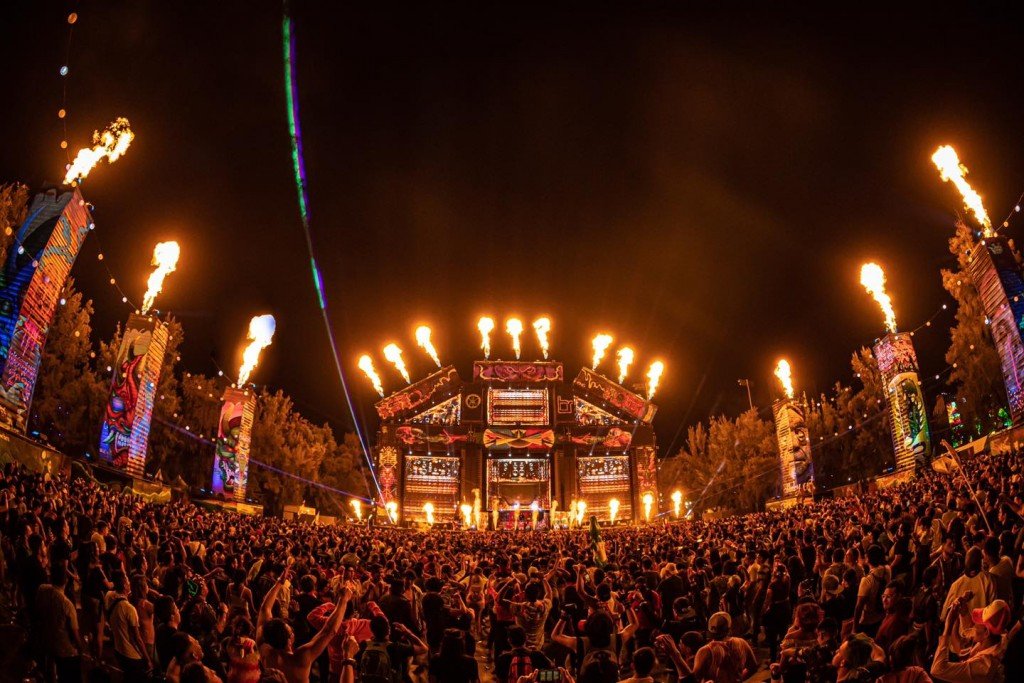 He fell into playing trance because it made him feel good, but so did other dance songs from happy hardcore to Anjunabeats. One day he just asked himself, "why am I not playing these tracks in my sets?" He was never an elitist or purist, nor did he believe in sticking to one genre. He also guaranteed us that if we ask any DJ what they're playing in their cars, chances are more likely than not it's not the genre they play as a DJ. He opened up about once being scared to play the music he wanted, but in truly coming to his own, has found his place and sweet spot. Ben gets to be Ben, and it has served his career well. There hasn't been a DJ that has played both the Dreamstate stage AND the Basscon Stage, so I would say he's definitely doing something right.
Having sold out shows from Gasglow, Newcastle to Bristol, Ben is currently the highest selling DJ in all of Northern Ireland. It isn't easy filling 15,000 capacity shows, but he's doing it! With all of that, I wondered if he was still handling 100% of his social media as he was a few years back. The answer was still "YES". He is proud of being behind all of his responses to his fans and the content he puts out. He attributes a lot of his success to videos with his wicked drops he creates for other tracks in his set. He was modest about his production being decent, but really takes pride in the remixes and drops he does to get his name out there. He mentioned that an original he produced would draw in something about 500,000 hits, whereas a video with a sick drop he made would hit between 2-3 million. And that's what I call good marketing right there.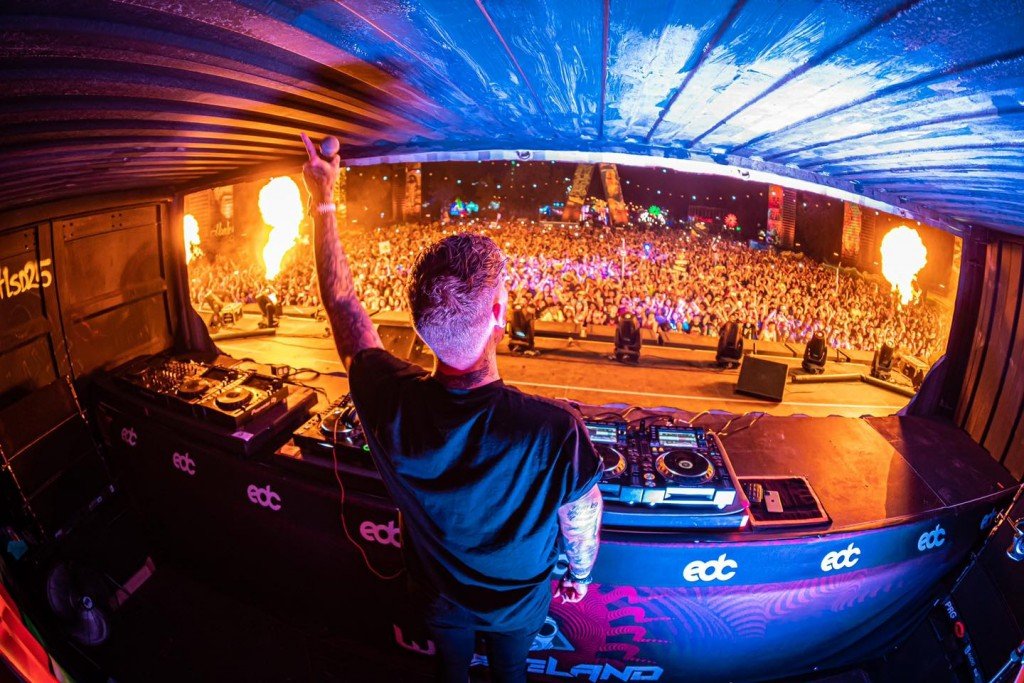 Finally, I asked Ben for any advice he has for artists out there seeking longevity in their careers.
" Don't be afraid to reinvent yourself. "

" Don't be afraid to give the fans what they want if they're paying $100 to see you play. Don't be afraid to crowd please. "

" I'm not in a scene that allows me to be as innovative as I want. Someone like Porter can get away with making anything he wants, but not me. I'm a much better DJ than I am a producer… so I like to show my trade through mixing and getting creative with it. "
I asked Ben what we could expect in the next few months. His remake of "Raindrops" with Stunt just dropped. He also has tracks coming out with Kayzo, Lil Texas, Steve Aoki, and a remix with the legendary, Sting. Last but not least, we can definitely expect some trance, hardstyle and happy hardcore tracks coming out.
What is something you're grateful for in this moment?
" Fans that take time, travel, and spend money to come to my shows.""And…. airplanes. Without it, I wouldn't have a job. "
LAST WORDS FOR YOUR FANS:
"Listen to what you want. Do what you want. Be happy. Be positive. You are going to die one day. Make the most out of it. Don't sit there moaning about life. Get on with it. Don't let the small little things that people think are really interesting like instagram, how many likes people get, or how popular you are get to you. That means SHIT. Just go have a good time and be around good people. I just came out of a mini relationship and we were talking about this topic. Nowadays people are so insecure and THINK that what they see on social media is real life. Having a good time. Traveling the world. When in reality they're probably losing money. I have the same mindset that I had when I was a kid. Just enjoy your family and being a real person. Be a good person and have fun. And that's my wisdom. I'm sober right now."
Usually I would be in the crowd head-banging to one of Ben's sets, but watching the crowd's reaction to Ben's closing set from the stage very late night aka early morning was equally as awesome. He did play the next day in Orange County before heading to closing day of EDC Mexico on Sunday. I have yet to check back with him to see if he broke his sober streak, since he told me that he was meeting with his good friends at EDC Mexico, Christoph and Eli Brown where shit always went down as a party.