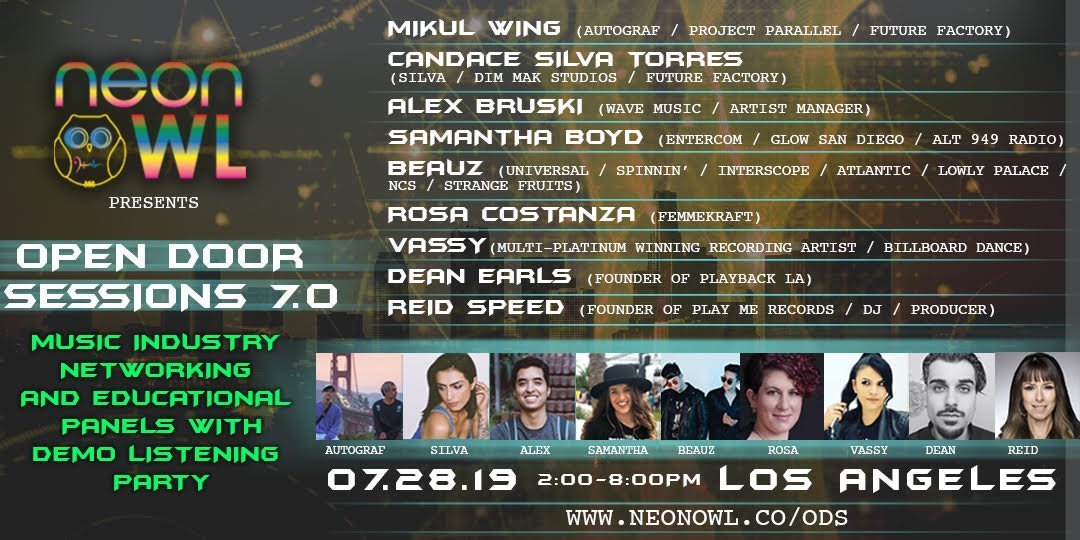 Neon Owl is excited to finally bring the long overdue Open Door Sessions to

Los Angeles

!
Come network and learn in an intimate setting about everything music industry!
This time around, we'll have 2 panels and our usual demo listening party.
FULL LINEUP HAS BEEN ANNOUNCED:
Mikul Wing (Half of Autograf, Future Factory Radio, Project Parallel)
Alex Bruski (Founder of WAVE MUSIC with over 2.6million subscribers on
Youtube: https://www.youtube.com/channel/UCbuK8xxu2P_sqoMnDsoBrrg)
SiLVA (Host of Future Factory (Dash Radio), Dim Mak Studio (I Heart Radio), DJ, NAP GIRLS)
Rosa Costanza (Femmekraft and NAP GIRLS)
Samantha Boyd (Entercom Communications, ALT 949 Radio, GLOW Radio)
BEAUZ (DJ and producer duo with releases on Universal, Spinnin', Interscope, Atlantic, Lowly Palace, NCS, Strange Fruits)
VASSY (Multi-platinum winning recording artist with #1 hits on Billboard Dance and US Dance Radio with hits like "Concrete Heart," "Secrets" in collaboration with Tiesto & KSHMR, and "Bad" with David Guetta & Showtek)
Dean Earls (Atlantic A&R consultant, engineered artists like Justin Bieber and Snoop dog, co-founder of Playback LA – Emmy award winning, TEC award winning, Grammy nominated recording studio)
Reid Speed (Founder of PLAY ME Records, DJ/ Music Producer)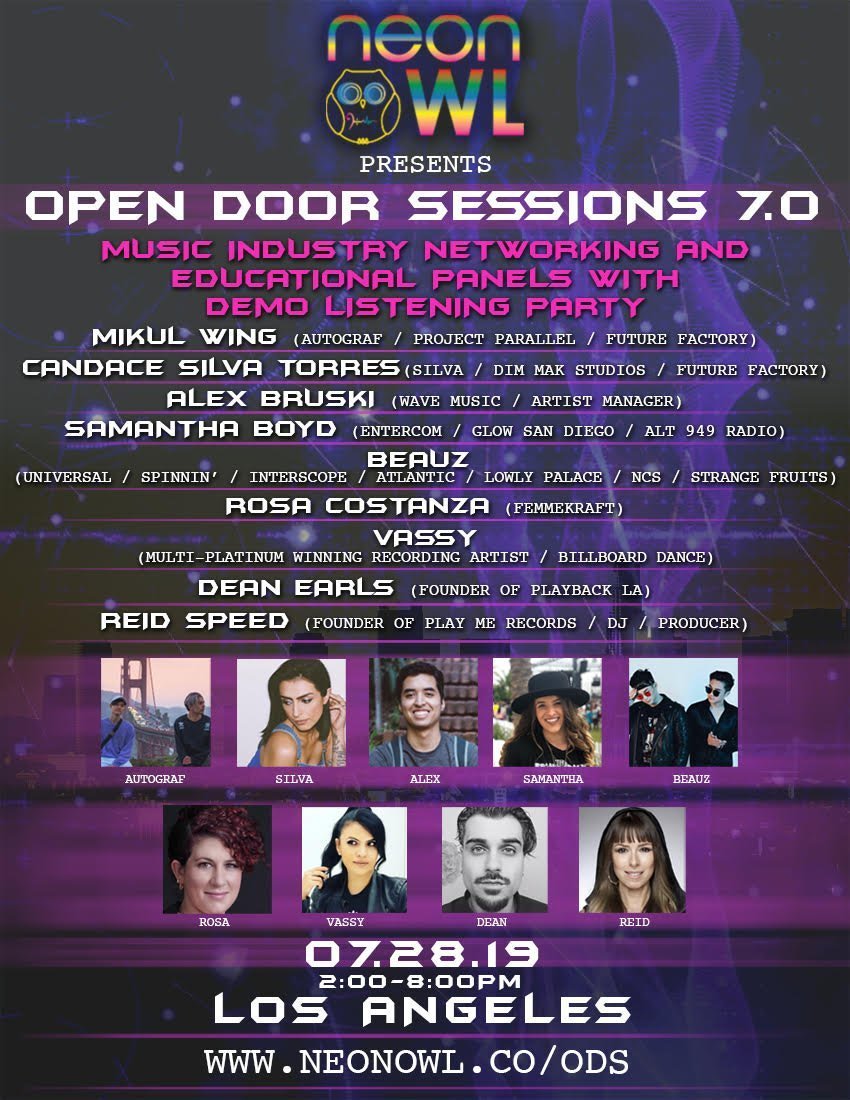 EDUCATIONAL PANELS:
WOMEN IN THE INDUSTRY: A panel to highlight women's career pathways in music. We will have a diverse group of ladies in various roles speaking about career evolution in music.
MUSIC CURATION AND RADIO PLAY: A panel of music curators, radio programmers, and artists to share best practices for how to create, grow, and get your brand some mainstream exposure!
DEMO LISTENING PARTY:
This has always been one of our favorite parts of Open Door Sessions. In the last year and a half, we have had countless number of tracks played at our events (and multiple signings from them to different labels). We'll have a panel of different artists and industry experts thats worked with different record labels and radio to listen to your tracks and give you honest feedback to see what you need to take it to the next level.
Due to time, we will only be playing about 8-10 tracks.. but all tracks submitted will get at least e-mail feedback from our team and/or panelists.
For a chance to get your track played at our event, submit a direct high quality downloadable file along with a Soundcloud link to info@opendoorsessions.co no later than July 21st Sunday. Include a brief bio about yourself and the track. We will let you know if your track is chosen by July 25th, Thursday. You must be present at the event on July 28th to get your track played (or to receive e-mail feedback post event).
This is an all ages event.
Proceeds from the event will go toward supporting suicide prevention. More info coming soon about additional ways you can support the cause.
Photos from Open Door Sessions 5.0 – Industry Experts Panel & Sets by BEAUZ, Convex, Whitlock, Ney X Miss Mak